Ben & Jerry's Newest Flavor: Resist! Get Woke Go Broke!
Tags:
ben and jerrys
resist
get woke go broke
Ben & Jerry's Newest Flavor: Resist! Get Woke Go Broke! published by The 1st Amender
Writer Rating: 3.0000
Posted on 2018-10-30
Writer Description: Loves to blog and debate
This writer has written 207 articles.

In today's political climate you have to take a look at a lot of the things in your life that you associate with positivity. For some of us, that happens to be Ben & Jerry's ice cream, easily able to associate pleasure receptors for a reasonable price. But oh wait! It looks like Ben & Jerry's brings up something from their sleeve! Introducing: Ben & Jerry's newest flavor: Resist!
We got woke and went broke everybody!
Very nice. I love to see a company decide to take an authoritarian approach to political matters. Lovely. Well, as far as I am aware of, we have the ability to vote with our dollars. If you are interested in taking your company's customer base and effectively cut it in half, well this is a great way to make that a reality. According to the artist who made the Ben & Jerry's design for Resist:
"Today Ben and Jerry's launches Pecan Resist with my art! This flavor supports social movement groups creating a more just and equitable nation for us all, and who are fighting President Trump's regressive agenda." which was then retweeted by Ben & Jerry's Twitter to show what kind of stance they take this highly charged topic politically.
Well you have every right to spout your political beliefs. Again. I would like to state we have the ability to vote with our dollars. While the leftist may believe that they are a revolutionary figure resisting racism, it is in my humble opinion that they have the belief to create an authoritarian agenda. So if Ben & Jerry's wants to do something like this, let them. You just lost a customer and with anyone reading this article, I am certain you would see more customers lost. I will politely RESIST eating any more Ben & Jerry's now.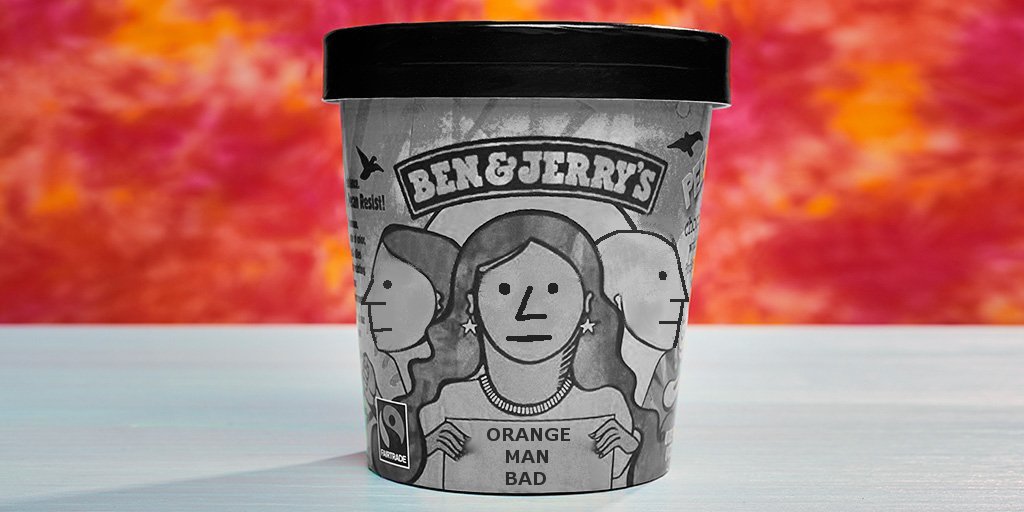 Feel free to share!
Tweet
Sources:
self-written
https://www.benjerry.com/whats-new/2018/10/pecan-resistance-action
You have the right to stay anonymous in your comments, share at your own discretion.