The Latest: Obama says Cuba's isolation deters change
Tags:
USA
The Latest: Obama says Cuba's isolation deters change published by Evanvinh
Writer Rating: 5.0000
Posted on 2016-03-22
Writer Description: Evanvinh
This writer has written 733 articles.

HAVANA (AP) — The Latest on President Barack Obama's trip to Cuba (all times local):
President Obama says Cuba's isolation has in some ways empowered those who don't want to see change in that nation. Obama says his policy of engaging Cuba is not based on naivety but on the belief that Americans traveling to the nation and sharing their ideas and culture will provide a greater platform for change.
Obama is speaking with ESPN in the third inning of an exhibition game between the Tampa Bay Rays and Cuba's national team.
Obama says he has also spoken with Belgium's prime minister to discuss the terrorist attacks in Brussels. He says the attacks are another example of why the entire world has to unite against the terrorists who conducted the attacks. He also says the U.S. will continue working with more than 60 nation "pounding" the Islamic State group and that "we're going to go after them."
2:15 p.m.
President Obama is introducing Jackie Robinson's widow to Cuban President Raul Castro before the start of Tuesday's exhibition game.
Rachel Robinson was also on Air Force One as the president traveled to Havana. Robinson, who broke Major League Baseball's color barrier, played in Cuba in 1947 with the Brooklyn Dodgers holding their spring training there.
Rarely has so much pomp and circumstance accompanied an exhibition game. Former major leaguers Dave Winfield, Joe Torre and Derek Jeter were among the president's greeters.
Obama has prime seats for the game and has even participated in a mini-wave where fans briefly stand, yell and raise their arms before sitting back down again. The effort ended almost as soon as it began. He is also chatting with several of the players, including Tampa Bay's Chris Archer, the team's star pitcher. Acher gave the president a baseball glove.
1:50 p.m.
President Barack Obama has arrived for a much-anticipated exhibition baseball game between the Tampa Bay Rays of Major League Baseball and the Cuban national team.
The crowd roared as Obama and Cuban President Raul Castro entered the stadium and walked toward their seats in the VIP section behind home plate.
It was a remarkable sight for Cubans to see the presidents of the United States and Cuba seated side by side.
Obama's wife, Michelle, sat on the other side of him.
It's the first game featuring an MLB team in Cuba since the Baltimore Orioles played here in 1999.
1 p.m.
Cubans who saw President Barack Obama's speech, which was broadcast on state TV, are jubilant about his calls for greater democracy on the island.
Juan Francisco Ugarte Oliva, a 71-year-old retired refrigeration technician, called Obama's address "a jewel." Ugarte says the American president "dared to say in the presence of the leaders, of Raul Castro, that (Cubans) had the right to protest peacefully without being beaten or arrested."
Barbara Ugarte, a 45-year-old gift shop owner, says she agreed with everything Obama said. She says Cubans "need democracy, freedom of expression."
Cubans expressed a startling degree of openness and anger directed at their own leaders.
Anabel Rodriguez, a housewife, says the speech was "very correct." She praised Obama for speaking about human rights, saying what you think and choosing your own president, "not those that they impose on you."
12:10 p.m.
President Barack Obama is praising a group of Cuban dissidents for showing "extraordinary courage."
Obama is meeting with a group of about a dozen activists at the U.S. Embassy in Havana.
He is noting that the group represented various causes and some in the room have been detained by government authorities — "some in the past, some very recently." Some have broad concerns about democracy and "the ability to speak freely, worship freely." He says: "It requires, often times, great courage to be active in civic life here in Cuba."
The group includes journalist Miriam Celaya, attorney Laritza Diversent and activist Manuel Cuesta and Jose Daniel Ferrer.
Obama says the U.S.-Cuba policy is about engaging people directly. He says he hopes "that by listening and hearing" from Cuban people that U.S. policy will help them "live freely and with prosperity."
He says: "Much of this is a matter of us being able to hear directly from the Cuban people and making sure that they have a voice and making sure that their concerns and their ideas are helping to shape U.S. policy."
11:55 a.m.
Prominent members of Cuban society who attended President Obama's keynote address say they are pleased with the president's message that the U.S. is a friend in helping the nation's transition, but they also stress that change will come at a pace set by Cuba, not the United States.
"I think it's very important that President Obama has recognized the accomplishments of the Cuban people," says Heriberto Feraudy, a writer.
Feraudy is emphasizing that Raul and Fidel Castro have both already said they would make whatever changes were necessary for the country.
Gladys Abreu, head of the Cuban Society of Pediatrics says Obama "has delivered us a message of collaboration between the two people, and we agree with that."
She says Obama's calls for change won't change the pace of reforms. Still, the message that the U.S is no longer a threat is welcome.
"We're on the path. That path will be easier if there isn't confrontation," Abreu said.
11:10 a.m.
President Barack Obama is usually a harsh critic of the GOP candidates running to succeed him. On Tuesday, he held them up as evidence of American progress.
Speaking in Havana on his historic first visit, Obama asked the audience to "stop and consider" the remarkable cast of candidates running this year.
"You have two Cuban Americans in the Republican Party running against the legacy of a black man who is president while arguing that they're the best person to beat the Democratic nominee, who will either be a woman or a democratic socialist."
"Who would have believed that back in 1959? That's a measure of our progress as a democracy."
Obama didn't name the two Cuban contenders — Florida Sen. Marco Rubio, who has suspended his campaign, or Texas Sen. Ted Cruz by name. Both have been harsh critics of Obama's warming of relations with Cuba.
11 a.m.
U.S. House Speaker Paul Ryan is giving a thumbs-down to President Barack Obama's trip to Cuba.
Asked what he thought about the president's visit, Ryan said: "Not much."
The Wisconsin Republican said it was "fairly ironic" that Obama was in Cuba on Tuesday when an influential pro-Israel lobbying group was holding a conference in Washington. Ryan said that in Washington, "we were talking about standing up for our allies, fighting for freedom, standing up for national security, and the president takes a trip to Cuba where he effectively gets nothing in return and he legitimizes a tyrannical dictatorship."
10:35 a.m.
President Barack Obama is keeping up his push to lift the U.S. trade embargo against Cuba.
Obama says the blockade hurts the Cuban people by cutting them off from the world and restricting economic growth.
Speaking in Havana on Tuesday, Obama said: "It's time to lift the embargo."
Obama has repeatedly cast the decades-old economic sanctions as an outdated holdover from another time — a policy that should be cast aside for new approach. He says "We are in a new era" and that it's time to "leave behind the ideological battles of the past."
10:25 a.m.
President Barack Obama says he's come to Cuba to "bury the last remnant of the Cold War in the Americas."
Obama notes his lifetime has spanned the time of isolation of between the two countries and the decades of constant confrontation. But he says the two countries share the same values and someday the decades of hostilities will be viewed as just "one chapter in a longer story of family and of friendship."
Obama is speaking from the Grand Theater of Havana, with Cuban President Raul Castro and his presumed successor, Cuba's First Vice President Miguel Diaz Canel, looking on.
Obama stressed differences between the countries, noting Castro has discussed them at length during his visit. But Obama says Cuba and the U.S. share similar colonial roots and he says the countries are like two brothers who've been estranged for many years even though they share the same blood.
9:05 a.m.
A number of Cuban dissidents are preparing to meet President Barack Obama on the final day of his visit to the island.
Catholic activist Dagoberto Valdes says the detente between the two countries has been hard to imagine. He says it's a challenge both for Obama and for Cuba.
He says he plans to remind the U.S. leader that "we Cubans are the protagonists of our history." It's a point Obama himself made in statements on Monday.
Some of those invited to the meeting at Havana's U.S. Embassy were briefly detained by police during a protest demonstration on Sunday.
8:45 a.m.
The streets around Havana's National Theater are almost completely empty of ordinary Cubans shortly before U.S. President Barack Obama is to deliver the main speech of his history-making visit to Cuba.
Hundreds of plainclothes policemen and women fill the streets for blocks around. People invited by the Cuban government, including doctors in white coats, are filing from buses into the theater.
Two enormous framed flags — one Cuban and one American — hang on the stage behind where the president will speak, along with the smaller flags on poles behind him.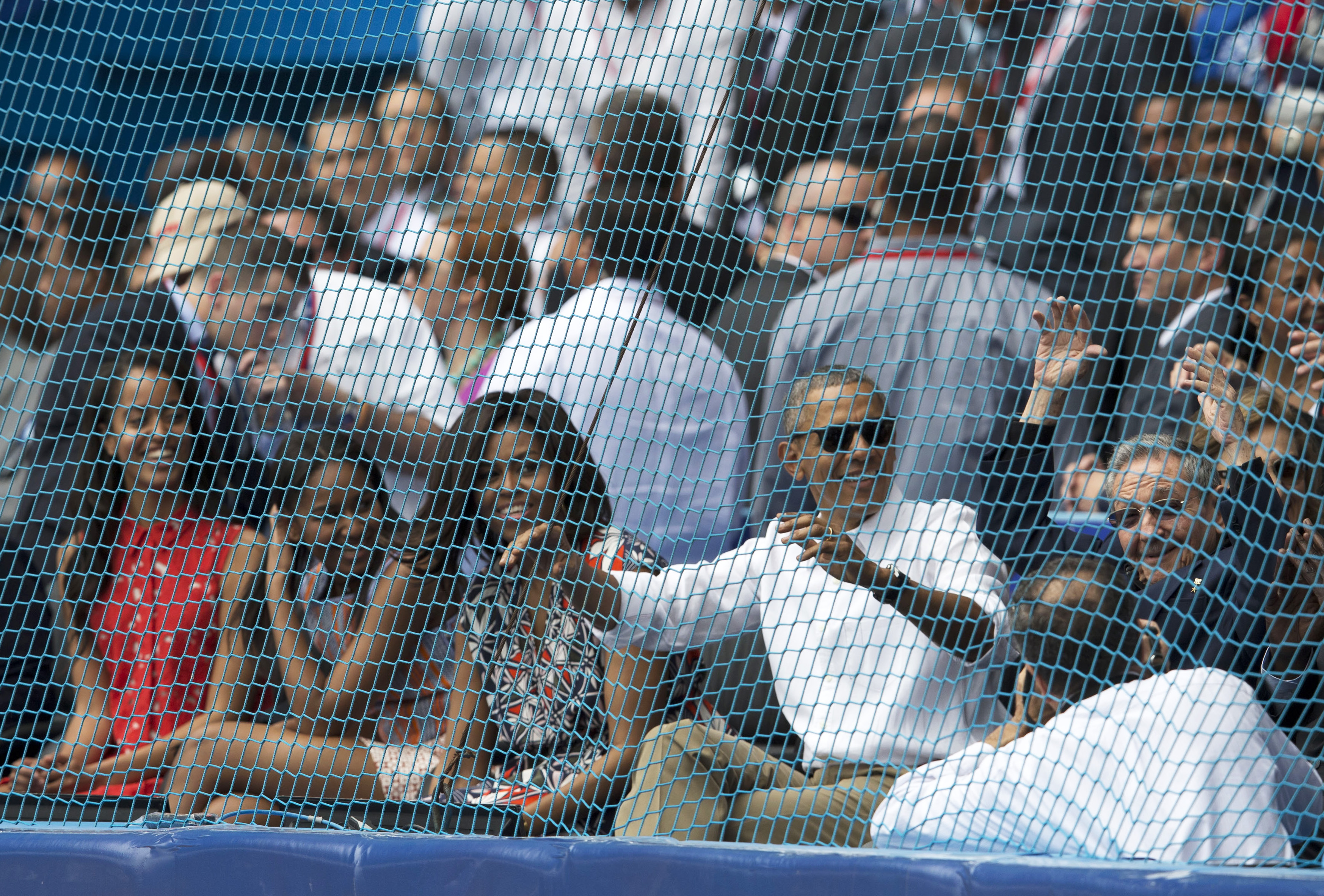 A man wearing crucifix and a shirt with the image of U.S. President Barack Obama awaits to get a glimpse of the U.S. presidential limousine carrying Obama, outside the Grand Theater of Havana, Cuba,Tuesday, March 22, 2016. President Obama urged Cubans in his speech at the theater, to look to the future with hope, casting his historic visit to the island nation as a moment to "bury the last remnants of the Cold War in the Americas." (AP Photo/Ramon Espinosa)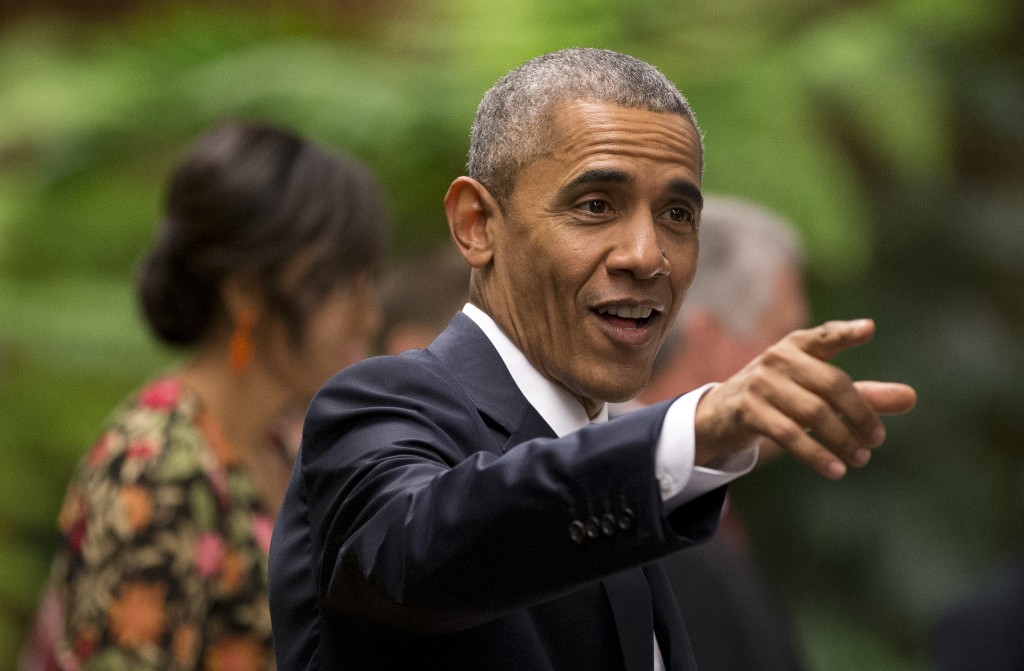 Tourists buying antiques in a shop, watch the speech of U.S. President Barack Obama on a television, in Havana,Cuba,Tuesday, March 22, 2016. In his speech President Obama urged Cubans to look to the future with hope, casting his historic visit to the island nation as a moment to "bury the last remnants of the Cold War in the Americas." (AP Photo/Ramon Espinosa)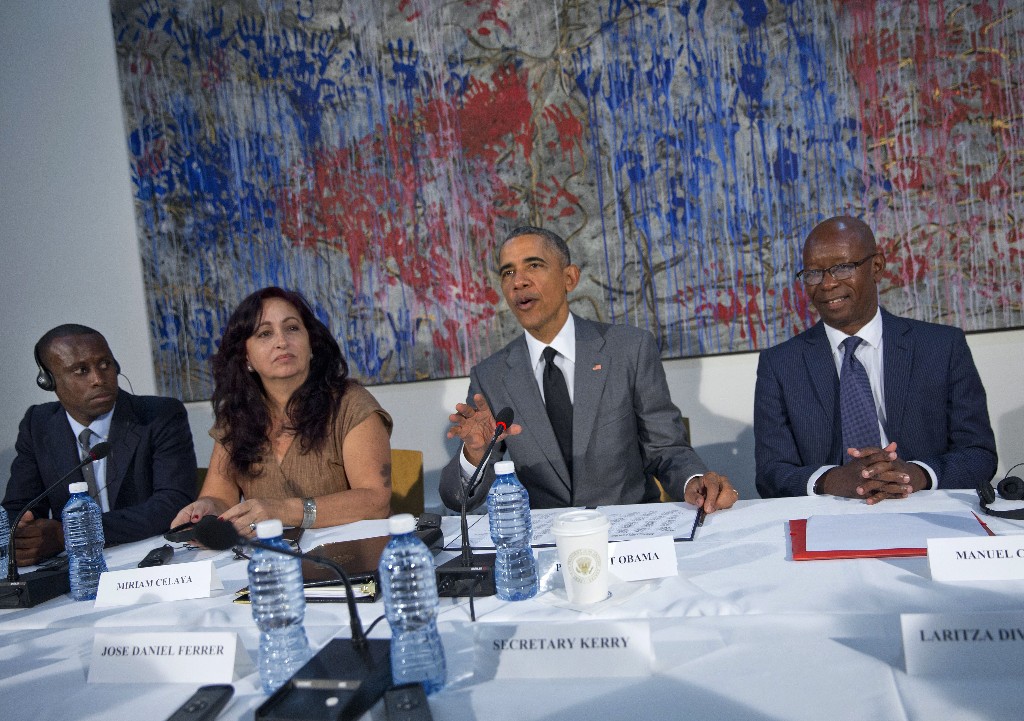 President Barack Obama speaks at El Gran Teatro de Havana, Tuesday, March 22, 2016, in Havana, Cuba. (AP Photo/Pablo Martinez Monsivais)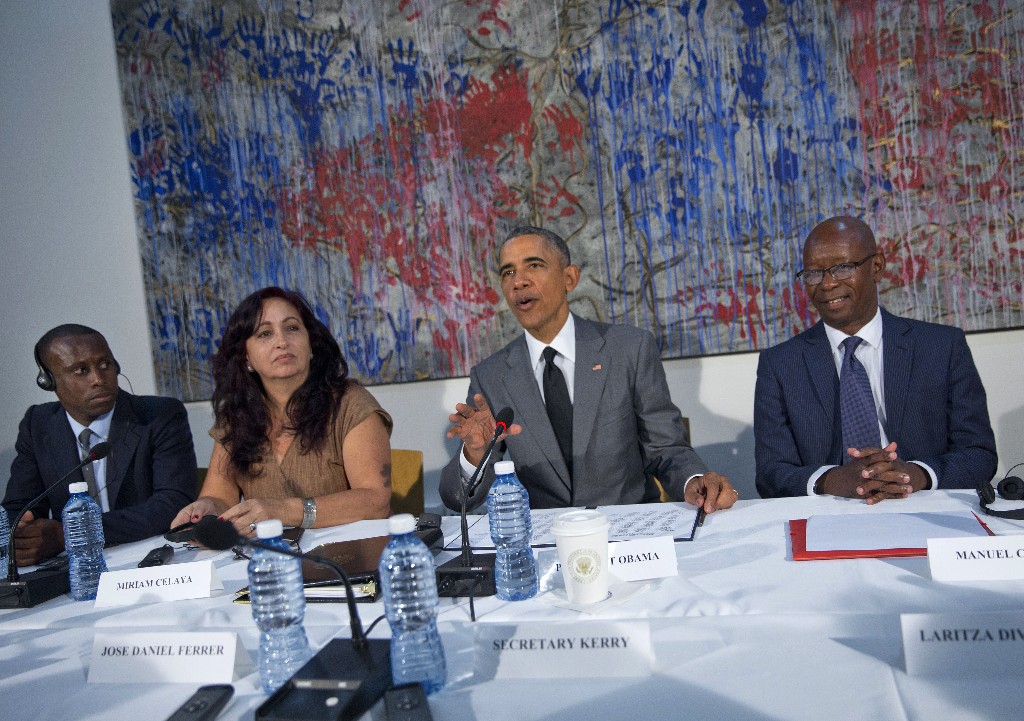 President Barack Obama gestures to another guest as he arrives for a state dinner at the Palace of the Revolution in Havana, Cuba, Monday, March 21, 2016. Obama's visit to Cuba is a crowning moment in his and Cuban President Raul Castro's bid to normalize ties between two countries that sit just 90 miles apart. (AP Photo/Rebecca Blackwell)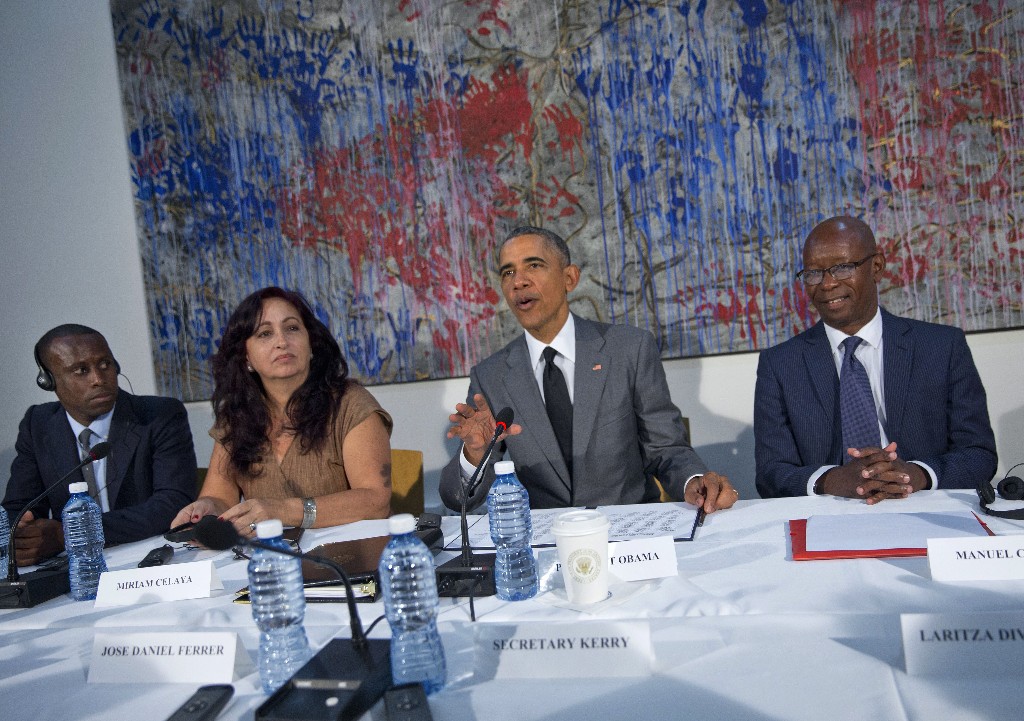 President Barack Obama meets with dissidents and other local Cubans at the U.S. Embassy, Tuesday, March 22, 2016, in Havana, Cuba. From left are., Nelson Alvarez Matute, Miriam Celaya Gonzalez, and Manuel Cuesta Morua. (AP Photo/Pablo Martinez Monsivais)
Tweet
Sources:
http://s3.amazonaws.com/steinershow.org/files/radio/president-obama1.jpg
You have the right to stay anonymous in your comments, share at your own discretion.