Redfoo Keeps The Party Rockin' With Debut Solo Album
Tags:
USA
Redfoo Keeps The Party Rockin' With Debut Solo Album published by Evanvinh
Writer Rating: 5.0000
Posted on 2016-03-26
Writer Description: Evanvinh
This writer has written 733 articles.

Redfoo has been rocking the party for as long as he can remember — and he plans to continue that momentum through 2016.
The musician and one-half of electronic/pop duo LMFAO just released his debut solo album, "Party Rock Mansion," a title that lives up to its name, as well as the lifestyle Redfoo (whose real name is Stefan Kendal Gordy) has channeled for years.
"Party Rock Mansion" features the kind of upbeat dance songs that you can expect from Redfoo. After all, the 40-year-old artist still enjoys going out and having fun. He tries to relax when he can, though if you ask his dad, legendary Motown founder Berry Gordy, Redfoo is probably not getting enough sleep. Redfoo told The Huffington Post he enjoys going out and working hard, and his sleep sometimes suffers because of it.
"I'll sleep when I'm dead," he told The Huffington Post.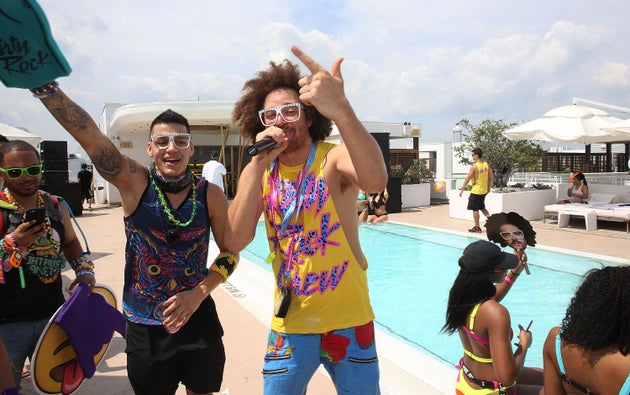 AARON DAVIDSON VIA GETTY IMAGES
Luckily, Redfoo poured that energy into the recording studio. Overall, the album is more "intimate" than his work with LMFAO, Redfoo said.
Aside from the party rock anthems, Redfoo's solo debut also features a love ballad inspired by a woman in his life. The track, he says, centers on that moment when you go out on the line and tell someone "I love you," and you're unsure whether you'll hear it back. Sigh ... we've all been there.
Many of the new songs were inspired by Redfoo's personal relationship experiences — from being in a serious romance to navigating the single life.
Redfoo has had the tracks kicking around for a couple of years, but now felt like the right time to pull it all together into on collection that also features guest stars Stevie Wonder and Dimitri Vegas and Like Mike.
Looking ahead, Redfoo looks forward to performing the new songs live while on tour behind the set, with dates lined up overseas this spring and North American shows in the works for later this year.
Tweet
Sources:
http://www.huffingtonpost.com/entry/redfoo-party-rock-mansion-interview_us_56f16b28e4b03a640a6bbf2a
You have the right to stay anonymous in your comments, share at your own discretion.