Emmanuel Eboue Handed 1-Year Ban by FIFA, Sunderland Terminate Contract
Tags:
U.S.A
Emmanuel Eboue Handed 1-Year Ban by FIFA, Sunderland Terminate Contract published by Evanvinh
Writer Rating: 5.0000
Posted on 2016-03-31
Writer Description: Evanvinh
This writer has written 733 articles.

By Matt Jones
FIFA has banned right-back Emmanuel Eboue from taking part in any football-related activity for one year over alleged unpaid agent fees, prompting Sunderland to terminate his contract.
In a statement on FIFA's official website, it's noted the former Ivory Coast international has been hit with a sanction that "will last for one year or until he pays the total outstanding amount owed to his former agent [Sebastien Boisseau] if this occurs before the one-year ban has elapsed."
Former Arsenal man Eboue signed for the Black Cats on a free transfer in March, and as a result of this ban, the club has confirmed in astatement that they will be letting him go pending an appeal.
"Eboue signed a contract with Sunderland AFC until the end of the current season and the club has therefore given notice of its intention to terminate the contract," read a section of the post. "The player has two weeks in which to appeal this decision."
Eurosport documented what has been a month of ups and downs for the 32-year-old, who never made an appearance for the north-east side:
In the statement from FIFA, it's noted that the dispute is between Eboue and Boisseau, which originated in 2013 over an "an amount owed to him [Boisseau] based on the representation agreement between the two parties."
The right-back was reportedly fined 30,000 Swiss francs after "failing to comply with the decision" made by the Players' Status Committee on the matter and given a deadline to pay the money. After the deadline passed, Boisseau was entitled to request a ban, and despite appeals from the player to the Court of Arbitration for Sport, it has subsequently been actioned.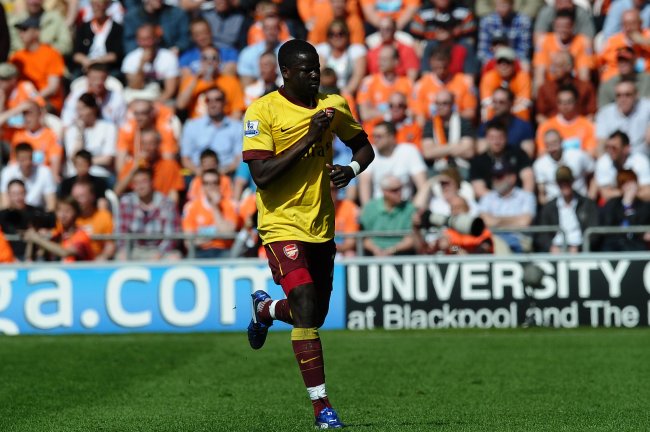 PAUL ELLIS/Getty Images
Eboue spent eight years at Arsenal.
Eboue was on Arsenal's books for eight years, and while he was much maligned during the final stages of his stint at the club, he was a dynamic and energetic presence on the right flank for much of his time at the Emirates Stadium. He started for the Gunners in the 2005-06 Champions League final against Barcelona.
Since leaving the Gunners, Eboue has enjoyed success at Galatasaray, winning three league titles, before moving back to the Premier League. He has also represented the Ivory Coast on 79 occasions, most recently in 2013.
​
Tweet
Sources:
http://bleacherreport.com/articles/2629077-emmanuel-eboue-handed-1-year-ban-by-uefa-for-unpaid-agent-fees
You have the right to stay anonymous in your comments, share at your own discretion.