Final Four: Key players to watch
Tags:
USA
Final Four: Key players to watch published by Evanvinh
Writer Rating: 5.0000
Posted on 2016-04-01
Writer Description: Evanvinh
This writer has written 733 articles.

By Jill Martin
Buddy Hield was all smiles after No. 2 Oklahoma defeated No. 1 Oregon 80-68 in the NCAA Men's Basketball Tournament West Regional Final at Honda Center on Saturday.
(CNN)The NCAA men's Final Four is set, and it's anyone's guess who will leave the NRG Stadium in Houston as the national champion.
West Region No. 2-seed Oklahoma and South No. 2-seed Villanova will get things started on Saturday at 6:09 pm ET, while East Region No. 1 North Carolina tips off against Midwest No. 10 Syracuse approximately 40 minutes after the Sooners-Wildcats game ends. The winners of those two games will go at each other in the championship game on Monday.
So who are the stars for each team left in March-soon-to-be-April Madness? Here's a guide of the best players from all four teams:
Oklahoma: Buddy Hield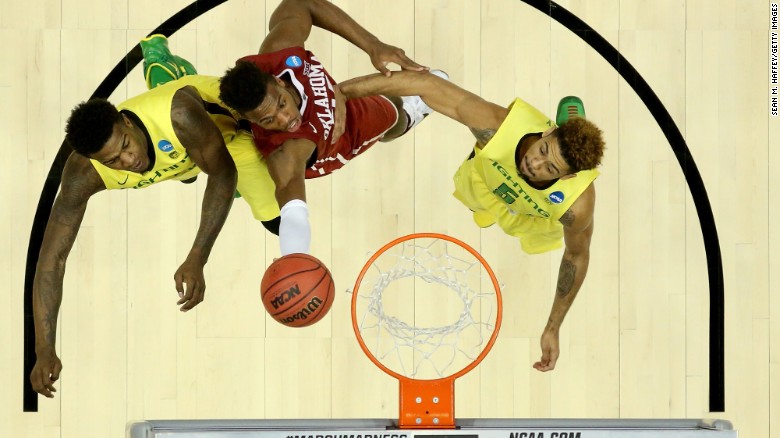 Buddy Hield scored 37 points -- including hitting eight three-point shots -- in No. 2 Oklahoma's 80-68 win against No. 1 Oregon on Saturday.
This one is easy. "Buddy Buckets" had a brilliant performance on Saturday, exploding for 37 points, including sinking eight 3-point shots, to lead Oklahoma to a 80-68 blowout win against West Region No. 1-seed Oregon to advance to the Final Four -- the Sooners' first since 2002.
Hield is lethal from deep, shooting 47% from three-point range this season, a year in which he's the finalist for the James A. Naismith Trophy, recognizing the most outstanding men's college basketball player. Of those eight 3-pointers he hit Saturday, one was more memorable than the others. Right before the end of the first half, Hield drilled a three, giving the Sooners an ultimately insurmountable 48-30 lead, and he locked eyes with Kobe Bryant, who was in attendance.
"Yeah, that was my favorite shot, because after that I looked at Kobe, and he saluted me afterward," Hield said.
There aren't enough adjectives to describe Hield, so instead the stat line will have to do. Hield's point totals in this year's NCAA tournament games: 27, 36, 17 and 37. He is the player to watch in Houston.
Villanova: The power of five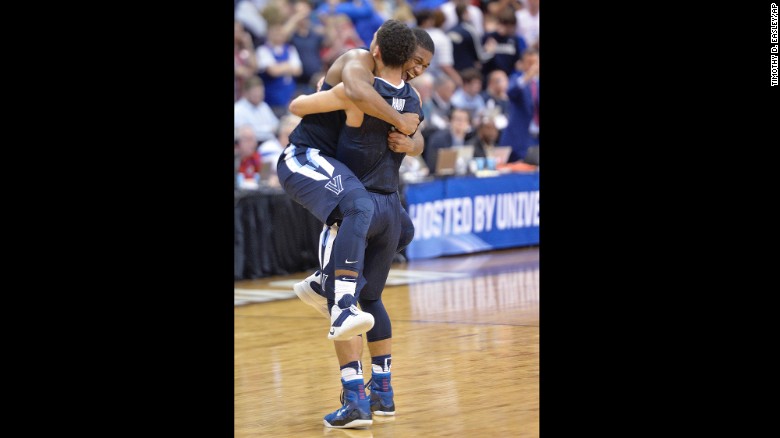 Villanova forward Kris Jenkins celebrates with teammate Josh Hart after defeating Kansas in the South Regional Final of the NCAA tournament on Saturday.
For the Wildcats, the "power of five" mentality applies. Not one player is head-and-shoulders the best on this team.
Case in point: In Villanova's 64-59 win Saturday in the NCAA South Region Final against No. 1 Kansas, four players stepped up: senior guard Ryan Arcidiacono, junior forward Kris Jenkins and junior guard Josh Hart all had 13 points, while senior forward Daniel Ochefu had 10 points and eight rebounds.
For what it's worth, Jenkins was named the South Region Most Outstanding Player. But really, Villanova's players are, at least when compared to Oklahoma's Hield, relatively anonymous.
When you think of Villanova, think "team first."
"It's the greatest feeling in the world to see these guys get to that point where everyone else sees that they're as good as we see they can be," Villanova head coach Jay Wright said.
North Carolina: Brice Johnson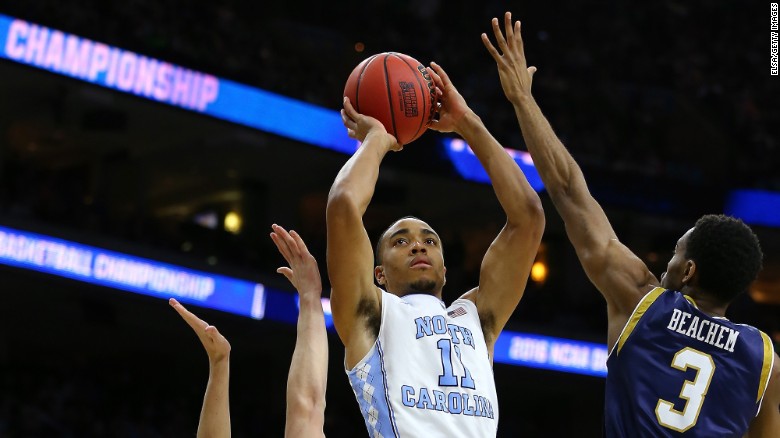 Brice Johnson leads the No. 1 North Carolina Tar Heels in scoring with 17.1 points per game.
For the Tar Heels, the player to watch is senior forward Brice Johnson. In UNC's 88-74 win against No. 6 Notre Dame in the East Region Final on Sunday, Johnson led the way with 25 points and 12 rebounds. Johnson has averaged a double-double this season, with 17.1 points and 10.5 rebounds per game.
This will be a senior-dominated Final Four. In recent years, the one-and-done freshmen have been the story lines. Not so this year. Johnson is one of many upperclassmen this season who have been instrumental in leading their teams through the NCAA tournament (though it should be noted that he also had help from fellow senior Marcus Paige, who averages 12 points per game).
Syracuse freshman guard Malachi Richardson led the way with 23 points and seven rebounds in Sunday's win against No. 1 Virginia. He was voted the Midwest Region Most Outstanding Player.
Like Villanova, the Orange is all about a team effort.
In Syrcause's improbable comeback to upset against No. 1 Virginia in the Midwest Region, freshman guard Malachi Richardson led the way with 23 points and seven rebounds. He was voted the Midwest Region Most Outstanding Player.
But it's a group of players that carries the Orange. Senior forward Michael Gbinije leads the team in scoring this season. He chipped in 11 points and six assists in Sunday's win against the Cavaliers. Freshman forward Tyler Lydon scored 11 points off the bench, while junior forward Tyler Roberson added 10 points and eight rebounds.
Another notable player in Syracuse's starting lineup is senior guard Trevor Cooney. He had eight points Sunday and is third on the team in scoring this season with 12.7 points per game.
"We've been great teammates to one another, through all the highs and lows," Gbinije said. "I think it's finally starting to pay off. We've got great chemistry on and off the court, and I think that's what it's all about."
Tweet
Sources:
http://www.cnn.com/2016/03/28/us/final-four-key-players-to-watch/
You have the right to stay anonymous in your comments, share at your own discretion.