Conor McGregor Rips Nate Diaz, Comments on Next Fight and Robbie Lawler
Tags:
USA
Conor McGregor Rips Nate Diaz, Comments on Next Fight and Robbie Lawler published by Evanvinh
Writer Rating: 5.0000
Posted on 2016-04-12
Writer Description: Evanvinh
This writer has written 733 articles.

Conor McGregor revealed on Wednesday he wants UFC welterweight champion Robbie Lawler in his next fight, as he continues to make final preparations for his tussle with Nate Diaz at UFC 196.
The Irishman will make his welterweight debut at the showpiece on Saturday night against Diaz, and while he's jumping up two divisions from his previous bout, McGregor has insisted that Lawler—who has held the welterweight crown since 2014— could be the next man to face him, per Martin Domin of the MailOnline:
That's probably the leading option. I mean [Rafael] dos Anjos is an absolute bum. How can you pull out of a fight with a bruised foot? And he's still complaining; man up and fight.

I like Robbie, I won't say a bad word about Robbie. He fights with his heart, he's been around the game so, so long. But if we fought, I'd beat him. I'm too fast for him. The size difference is not anything. I've stood beside him, I've seen him [up close].

But I do like Robbie. I respect him as a champion, as a man who drifted off, came back and rose up. He stood up and is welterweight champion. We'll see how it goes; that is an appealing one.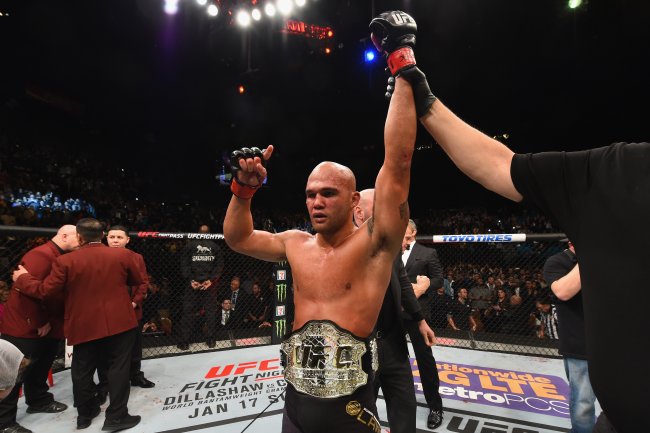 Josh Hedges/Zuffa LLC/Getty Images
McGregor, who still holds the featherweight title, was initially scheduled to face Rafael Dos Anjos at UFC 196, before the Brazilian and lightweight champion pulled out last week with a foot injury.
It was a withdrawal that robbed UFC fans from the chance of seeing McGregor make history, as he was seeking to become the first man in the company's history to hold two belts from different weight classes concurrently.
However, Diaz's uncompromising persona and fighting style has got plenty excited for the showpiece, as has the Notorious' welterweight bow. As we can see here, courtesy of MMAjunkie's Chamatkar Sandhu, there is a noticeable size difference between McGregor currently and when he fought Jose Aldo at featherweight back in December:
Despite being in an unfamiliar weight class, McGregor feels he'll have too much for the American on the night, per Domin:
How many times has he had this swagger about him [in the past]?

Last week he sat there and he done nothing. He shouldn't have said anything [because] as soon as he said something, I picked his bones off him. He's trying to say people are afraid to fight him. I hunted him down, stalked him, and now I have him trapped on Saturday.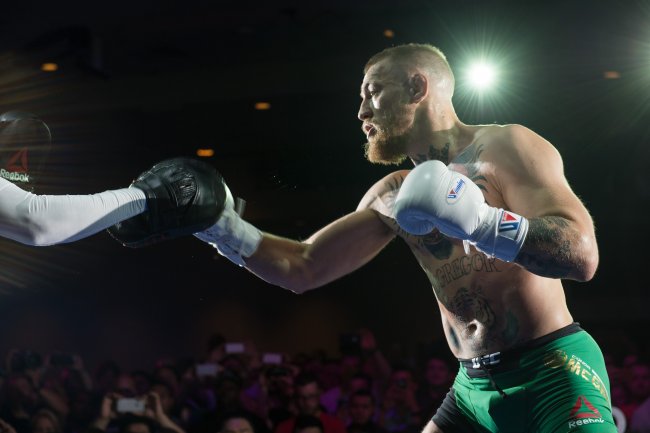 Brandon Magnus/Zuffa LLC/Getty Images
Indeed, McGregor is a big favourite to overcome Diaz, who is a heavy hitter but doesn't possess agility comparable to his opponent.
Should the Irishman win as expected, it would definitely be intriguing to see whether a showdown between him and Lawler would materialise. Bleacher Report's Jeremy Botter thinks victory at UFC 196 will give McGregor a shot at the welterweight title at UFC 200 this summer:
That fight would undoubtedly be the biggest test of McGregor's career to date, as Lawler has shown in his last two fights against Carlos Condit and Rory MacDonald that he's a warrior inside the Octagon and someone willing to go to extraordinary limits to keep hold of his prize.
Here's a reminder of some of the best moments from his last bout, in which he defended the title against Condit via split decision:
McGregor may be taking a calculated risk fighting at 170 pounds against Diaz, and it's going to be fascinating to see if he can preserve the balance of ferocity and finesse that was so prevalent at featherweight. If he can, then the American is going to find it very difficult to cope at UFC 196.
Should McGregor get through this one, there are certainly intriguing options ahead of the Notorious for the rest of 2016 when you consider the versatility he has shown in making different weights. At this juncture, all roads look increasingly likely to lead to a huge fight with Lawler at UFC 200.
Tweet
Sources:
http://bleacherreport.com/articles/2621491-conor-mcgregor-rips-nate-diaz-comments-on-next-fight-and-robbie-lawler
You have the right to stay anonymous in your comments, share at your own discretion.