Results for Japan
The American Left Are Idiots: OR: You Learn Something Every Day--Here's a Lesson on Sumo Wrestling
The American left is, to borrow a phrase from President Trump, "so sad". After a very successful state visit to Japan, a Japanese agency p...
Written by:
See Through Energy RV
Konami reportedly blacklisting ex-employees across Japanese video game industry
According to a Wednesday report in the Nikkei Asian Review newspaper, Konami is apparently blacklisting former employees in the Japanese vid...
Written by:
nherting
America takes on Japan in terrifying giant mech battle this August
In 2015, a team of American engineers created the MegaBots Mk. II, a 15-foot-tall, 5,400kg, paintball cannon-armed mech of nightmarish proportion...
Written by:
nherting
Do you want to play a game? Ransomware asks for high score instead of money
At this point, Ars readers have heard countless tales of computer users being forced to pay significant sums to unlock files encry...
Written by:
nherting
Gaming Journalism is Corrupt - Is It Lost Forever?
Gaming journalism has been on the subject for criticism for some time. It has shown over and over that the news for gaming can no longer be trusted. &...
Written by:
The 1st Amender
Japanese Robot Farm Company Going Big And Looking At New Vegetables
Companies like Spread are giving Japan's agriculture industry a serious upgrade for the 21st century. Spread shot to fame for its high...
Written by:
Mooba
U.S., South Korea, Japan plan anti-missile drill
The United States, South Korea and Japan are to begin a joint drill in June to prepare for potential missile threats from North Korea. The tri...
Written by:
Mooba
Okinawa base imposes curfew on US troops after woman's death
The US military base on Japan's island of Okinawa has imposed a midnight curfew and a ban on alcohol after the arrest of an ex-Marine suspected of...
Written by:
Mooba
Hikaru Dorodango – The Delicate Japanese Art of Making Perfect Shiny Spheres Out of Dirt
Hikaru Dorodango, which translates to 'shiny dumpling', is a relaxing Japanese art that involves crafting shiny spheres from dirt. Th...
Written by:
Evanvinh
The Ring Takes on The Grudge in the First Trailer for Japanese Horror's Ultimate Crossover
Sadako vs. Kayako is J-horror's answer to Freddy vs. Jason. It's about the clash between the ghost who haunts people who watch a...
Written by:
Evanvinh
Naki Sumo Baby Crying Contest in Tokyo, Japan
Usually getting a baby to stop crying is the hard part of any parents' day, but during the Nai Sumo Baby Crying Festival the goal is to get the we...
Written by:
Evanvinh
11 Still Missing After Japanese Earthquakes
The quakes killed 41 people (MINAMIASO, Japan) — Eleven people remained missing Sunday in southern Japan from two powerful earthquakes that k...
Written by:
Evanvinh
A study of ancient Japanese bones might challenge our ideas about human nature
By Sarah Kaplan A handout photo provided by Nature on January 19, 2016, shows the skull of a skeleton unearthed at Nataruk, the site of t...
Written by:
Evanvinh
Why Japan Is Excited About the 2020 Tokyo Olympics
Byline: Joe Jackson If all goes according to plan, visitors to the 2020 Tokyo Olympic Games will be awestruck before the sporting contests even beg...
Written by:
Evanvinh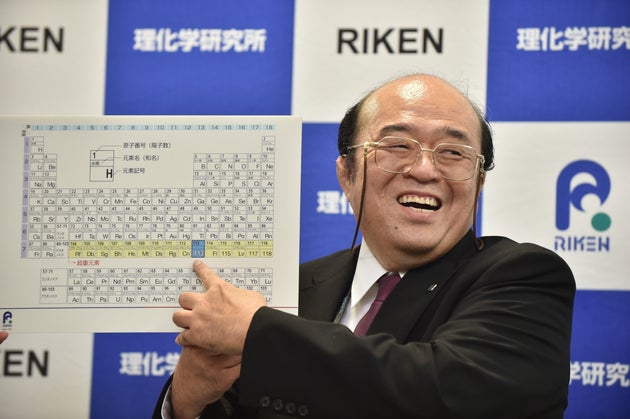 Periodic table's seventh row finally filled as four new elements are added
Four new elements have been added to the periodic table, finally completing the table's seventh row and rendering science textbooks around the w...
Written by:
The 1st Amender